Contact us to discuss our Cyber Security Software, Project management cyber security checklist, joining our re-seller program, ESET anti virus, publications or anything else cyber related. 
See also the below information on
cyber security software for small business
Cyber threats for small business are one of the greatest internet security threats for small business and start ups. While SMB's specialise in their business sector they often fail to secure their IT networks and comply with data privacy laws.
Datplan offers within Cyber Control a small business cyber security plan and template ensuring strong Cyber protection. Start up and small business find Datplan's approach perfect to suit their growing business, while medium sized business use the project plans to update and enhance existing controls.
 Cyber Security best practice is a must to avoid regulatory fines and keep client confidence. Any cyber security breach in a small business could end their trading ambitions.
Please contact us above for any information or read our publications for a greater cyber security insight. Aimed at providing cyber security protection and plans for small and Medium sized companies but offering Fraud detection powerful enough for enterprise use.
project management cyber security checklist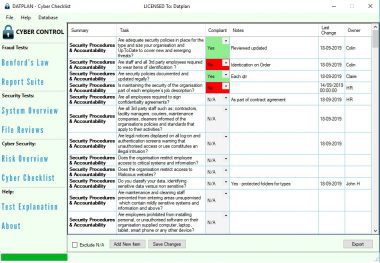 A key strategy for a successful cyber protection policy is a project management cyber security checklist. Datplan's Cyber Security Software contains a comprehensive project management plan enabling immediate start implementing. 
Contact us for more information on Cyber Security and Fraud prevention or download a free cyber security software trial. Alternatively visit our blog which hosts articles on all things cyber, best practice, policy and procedures as well as Anti Virus guides.  
Contact us today for cyber security project management, cyber security software, Fraud Detection software, GDPR and Data Privacy Solutions